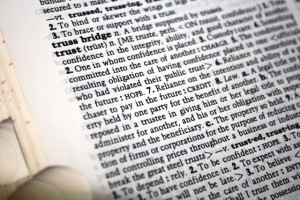 Richland-Wilkin Joint Powers Authority
Original Publication Date:
February 24th, 2014
Wahpeton Daily News
Republished with permission from:
Editorial Team, Richland Wilkin JPA
Trust is in an interesting concept. It's almost always established by someone you know doing what they say they will do. If they don't, trust never happens.
The Minnesota Department of Natural Resources recently asked the F-M Diversion Authority to explain why they are making plans to build a 16-foot ring dike around Hickson, Oxbow and Bakke when they don't have a permit from their agency. Minnesota law prohibits construction of any project component that changes the impacts of a project before they approve it.
Since half of the dam on the Red River, that will flood those of us upstream, will be in their state, DNR must issue a permit. Minnesota law governs any political entity that comes from their state. That includes Moorhead, Clay County, and the Buffalo Watershed District, all of which are members of the Diversion Authority.
Diversion Authority chairman Darrell Vanyo now says the planned 16-foot ring dike around Hickson, Oxbow and Bakken is NOT part of the diversion project. He says it would have been built anyway because Oxbow needs the flood protection.
Readers of the Wall Street Journal may remember back in 2011, the prestigious newspaper interviewed Oxbow Mayor Jim Nyhof, who was at that time decrying the proposed diversion and dam, about whether their city had flood protection. Nyhof said they had spent "1.6 million to rebuild itself and shore up their flood protection." Levee permits issued by the North Dakota Water Commission back up Nyhof's story.
At a Red River Basin Commission meeting in Fargo a month ago, Aaron Snyder of the U.S. Army Corps presented slides declaring the ring dike to be part of the overall diversion project. Mr. Vanyo traveled to Christine, N.D., last fall to answer questions and stated the ring dike was part of the diversion project. Yet now, Vanyo and Fargo Mayor Dennis Walaker declare they would have put a dike around their friends in Hickson, Oxbow and Bakken just to help neighbors who needed their protection, despite the fact none of the residents asked for it.
We learn at a young age we need to observe patterns to stay safe – like not running with scissors, stepping out into moving traffic, or taking a ride from strangers.
Many people don't trust the Diversion Authority or the Corps when they say the people upstream won't be harmed by their project. Many people believe the impacts will extend further and be more severe than we're being told.
Projects of this magnitude always have unintended consequences. Their pattern of behavior says this project is meant to protect Fargo and its future development land and the rhetoric and promises will never be kept. Getting it done is all that matters. Our eyes are on the Diversion Authority and the DNR. We'll see if the pattern is consistent.
Views: 21