Wahpeton Breckenridge Daily News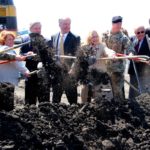 When a public officer, such as Moorhead's Mayor or County Commissioner, does something in their official capacity knowing that their conduct violates Minnesota law, they may be committing another crime that is punishable by up to one year in prison and a fine of $3,000.00. MN Statute 609.43. Shouldn't there be an investigation by an independent prosecutor and, if warranted, criminal prosecutions?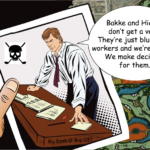 Not content with what they already have, Oxbow's lawyer stood up in Federal Court last month and argued that Oxbow is the victim. Apparently the federal injunction that stopped the construction on the ring dike is making it difficult for the private Oxbow Country Club to finish their golf course re-design.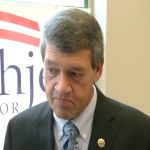 It's heartbreaking that Fargo's intimidation extends to the Attorney General's office. Whether Stenehjem's political opportunism made him seek the support of Fargo's political bullies, or whether he truly believes quick-take eminent domain is a useful tool of government is hard to say.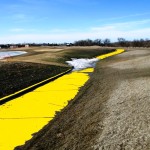 The Oxbow debacle continues, now double the amount promised just three years ago. The total is now up to 126 million and includes spending for concrete golf cart paths.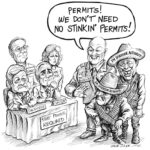 What's appalling is the Diversion Authority demands North Dakota tax dollars but doesn't want to follow the state's laws.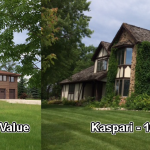 So many questions, too few answers…, taxpayer subsidized buyouts to mitigate a project that does not have federal funding or turned a shovel of dirt for the diversion channel.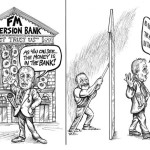 Even at a modest borrowing rate, the local sales tax won't cover the interest on a note to cover the federal share. The recent assessment vote that passed, despite a majority of property owners voting against it, does not provide any new money for the project. It only allows them to borrow more.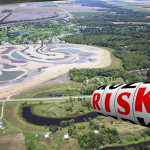 POLL VOTE: Fargo's leaders made a good gamble with $60 million of taxpayers' money, even after Minnesota formally objected to the project?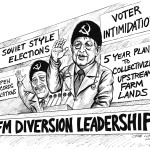 Bullying has become a well-polished means to an end for the diversion authority. Who would have imagined, ten years ago, that our honest, small town culture would have come to this?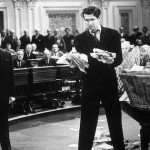 Cass County taxpayers receiving an assessment ballot and an "invitation" to support Fargo's Diversion learned that the election is fixed. The un-elected Cass County Joint Water Board deciders stacked the deck Soviet-style, the vote is a sham and the outcome pre-determined.