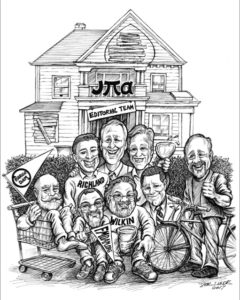 Richland-Wilkin Joint Powers Authority
Original Publication Date: December 28th, 2017
Wahpeton Daily News
Republished with permission from:
JPA Editorial Team
One of the first editorials on the Fargo-Moorhead Diversion, written in 2011, borrowed heavily from Winston Churchill's famous speech. The fledgling efforts of the Mndak Upstream Coalition were described as follows, "We are opposing it in the legislature, at the governor's office, with our congressional representatives and senators in Washington … We will oppose it at the ballot box, in the court rooms, on the air waves and yes, over coffee in church basements."
Over the next few years the opponents of the F-M dam grew in number and in volume. Nearly one-half a million dollars would be raised by the Upstream Coalition, funds that primarily went to the counties to help fund litigation, but also to consult engineers, retain a lobbyist and fund efforts to communicate to state and federal leaders and agencies. The fundraisers held in Christine and Hickson, North Dakota, at times served more than 500 people and the money came from individual families, not big donors.
In 2012, The Wahpeton Daily News began printing this weekly column, "Defending Richland – Wilkin." It would be hard to overstate the impact "Defending Richland-Wilkin" had on this cause. Indeed, it would be hard to name a more significant or influential grassroots organization springing up in rural Minnesota and North Dakota. Weekly, for the next five years, these articles would provide updates to the citizens of Richland and Wilkin Counties. June Kopp of rural Christine would then email the article to every paper and to every state and federal leader in North Dakota and Minnesota. It's fair to say that consistent readers of these articles are better informed than many of the diversion decision makers in Fargo. For example, several diversion leaders have expressed ignorance that the Fargo-Moorhead Diversion Authority's definition of 100-year-flood was actually 4 feet higher than the official FEMA regulatory definition. (Now it is only 3 feet higher). So when diversion leaders trot out their parade of horribles, such as the amount of potential damages from a 100-year-flood, they are talking about a flood 2 feet higher than the 2009 flood, and one never seen in recorded history. These articles also served to galvanize F-M diversion opposition and fill the void left by what seemed to be an intentional lack of reporting coming from the F-M Metro.
Today's cartoon depicts some of the key contributors to the "Defending Richland-Wilkin" editorial team. Early on former Richland Commissioner Perry Miller started assigning nicknames, many of them from the movie "Animal House." He gave our opponents nicknames, too, but we won't share them. This cartoon leaves out dozens of others who contributed to these articles during the past five years. Including everyone however, would have been a Herculean task, even for an artist as talented as Jack Lunde. So thanks to everyone who has contributed to these articles over the years, and thank you Daily News for printing them and giving us this incredible platform.
Views: 238