Archive for Wilkin County
You are browsing the archives of Wilkin County.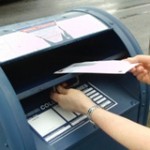 Beth Askegaard and Rolaine Askegaard write to MN Attorney General Lori Swanson to question leaders in St. Paul and Washington value our community, Clay and Wilkin Counties, as belonging to Minnesota. Fargo Diversion Authority insists on developing the natural flood plain south of the city and relocating water impacts onto Minnesota.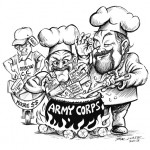 The PR gang at the Diversion Authority have been turning themselves inside out trying to vilify the benefits of retention. The simple fact is that if upstream retention, as has been laid out by the various publicly funded organizations, had been in place in '09, the biggest flood in recorded history would have been approximately 3 feet lower.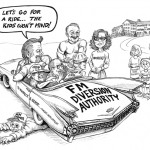 Fargo's leaders have created a conflict of interest making Moorhead's continued participation an unethical abuse of power that serves no legitimate Minnesota interest. The expanded plan does nothing for Minnesota and actually disadvantages Moorhead by subsidizing Fargo development into the flood plain south of the Metro.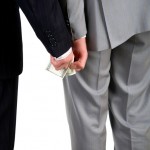 Fargo Diversion Authority leaders claim opposition to their wealth transfer scheme is being orchestrated by a couple of counties that are "insignificantly inconvenienced". The Diversion Authority's attacks on the JPA and upstream residents are a sideshow. The JPA is defending the rights of its constituents, and is a model for what government should do.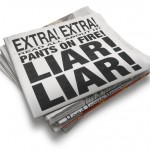 If retention doesn't work, then there would be no need for dams or no postulations to hold back agricultural drain tiling waters. The sooner local leaders comes to grips with that reality, progress can be made, solutions defined and actions taken.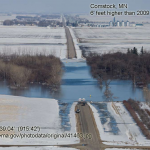 I am familiar with your letter dated Jan. 14, 2014 to Darrel Vanyo, warning Fargo's Diversion Authority that this action may violate Minnesota law. After receiving your letter, Fargo-Moorhead's Diversion Authority concocted an "independent utility" story.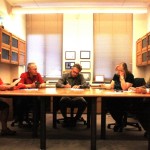 We have been accused of being against flood control for Fargo and Moorhead, but when we put forward a plan that could lessen the impacts in the counties and utilize the flood plain south of Fargo as a flood plain, it is insinuated that we don't know or understand what we're proposing.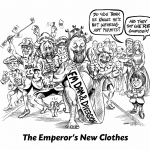 Don't be misled, the law is clear. Minnesota has the final word on whether the Red River gets a dam. The Army Corps is essentially just Fargo's paid contractor for this project, in no way exempt from the requirements of Minnesota law.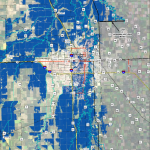 Richland-Wilkin Joint Powers Authority Original Publication Date: February 6th, 2014 Wahpeton Daily News Republished with permission from: Cash Aaland, director Mndak Upstream Coalition Two weeks ago the Mndak Upstream Coalition detailed an alternative to Fargo's diversion plan that would put Fargo first and deliver the same level of protection for the F-M Metro without impacting [...]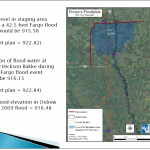 The diversion could be moved north of the confluence of the Wild Rice and Red Rivers. Recent studies show that taking less area out of the floodplain south of Fargo and reducing the amount of water in the river during times of flooding through distributed storage (water detention) would completely eliminate impacts of Fargo's diversion in Richland and Wilkin counties.