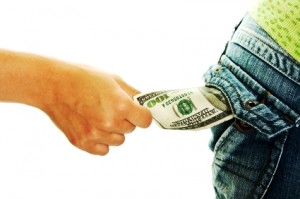 There are few people that like Fargo's 'Dam' tax.
There are multiple "punitive" taxes that collectively exist to fund the proposed Fargo Moorhead Dam and Diversion which directly and indirectly targets people with limited financial means that make smaller purchases.
Many citizens and visitors that oppose the taxes feel it's like having their pockets picked.
Although controversy exists regarding how the Cass County 1/2 cent tax was presented and whether or not Fargo will have support to extend their 1/2 cent sales tax in June, the taxes exists until they are repealed or expire.
Much of the concern surrounding the taxes is based in the unique benefits to Fargo at the expense of surrounding areas of Cass county and visitors to the FM area. Fargo struts it's self proclaimed "economic engine status" by embracing a "you should be thankful to pay a tax for the right to shop in Fargo because we've effectively crushed the surrounding small town economies."
Don't despair! There is tax relief available for people making purchases in excess of $2,500 via tax caps written into the tax codes and resolutions.
In a nutshell, once any single purchase reaches $2,500 any applicable overtax paid is your money and you are entitled to it's return.
1/2 percent sales tax shall not exceed $12.50
1 percent sales tax shall not exceed $25.00
If there are large purchases that you've made over the past 3 years and not requested your refund you may still be eligible to your refund. You may request a refund for purchase made up to 3 years prior to the date your refund request is submitted from the date of postmark.
If you do not request your refund, any overtax surplus will be returned to Cass County or Fargo to fund the Fargo Moorhead Dam and Diversion.

There are two ways to obtain your refund.

Click Link Below to View Tax Resolution or Right Click to Save:
Cass County Half Percent Sales Tax Resolution #2010-26 pdf 13kb
Fargo Half Percent Sales Tax "Q" ( 2002-07 – 2012-06 ) pdf 14kb
Fargo One Percent Sales Tax "S" ( 2009-01 – 2028-12 ) pdf 13kb
Fargo Half Percent Sales Tax "T" ( 2010-01 – 2029-12 ) pdf 13kb
Views: 252