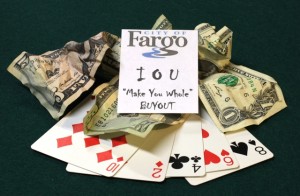 Richland-Wilkin Joint Powers Authority
Original Publication Date:
November 8th, 2012
Wahpeton Daily News
Republished with permission from:
Author: Perry Miller, a Richland County commissioner, is chairman of the Richland-Wilkin Joint Powers Authority.
We call. Time to lay your cards down. What do you have Fargo leaders? We know what you have caused: economic crises brought about by loss of home values in Oxbow, Bakke, Pleasant Township, Southern Cass, Southern Clay, Northern Richland and Wilkin counties. No home equity, no way to refinance, no way to sell or even buy.
Homes are now vacant or are rentals as residents have no choice. Growth has stopped. School revenues are dropping as district residents have successfully sought tax reduction as their home values are crashing. Kindred School District has voted to raise taxes in 16 townships in Cass, Richland and Ransom counties to deal with the declining revenues – a decline that will only grow as residents seek to follow Oxbow's method of minimizing their loss.
What do you have Fargo leaders? We know what you don't have. You don't have a plan that has a chance to clear the hurdles of Minnesota law requiring that this plan be rejected if there exists a reasonable alternative with fewer impacts. The U.S. Army Corp's own admissions and statements guarantee the success of this challenge. You don't have federal approval or funding, and cannot even plausibly seek it so long as the opposition remains strong and litigation is pending. You don't have a plan that will survive a challenge under North Dakota law because, again by the Army Corps' own admission, this plan is based upon and justified only by the future economic development of the flood plain. You don't have enough North Dakota state funding. This point was made at a public meeting by Fargo Rep. Jim Kasper in response to Diversion Authority Chair Daryl Vanyo's statement that they need $585 million from the state of North Dakota. Add to this the campaign building by rural representatives from southeastern and western North Dakota that have pledged to fight you in the state legislature.
You don't have the support of Minnesota lawmakers, or any Minnesota money, even assuming you survive the Minnesota DNR review. Moorhead is protected to 44 feet, 3 feet above the 100-year-flood level, protection that has already cost that state close to $100 million. Minnesota will not allow the flooding of southern Clay and northern Wilkin counties for a plan that does nothing for Moorhead. Gov. Dalrymple has publicly stated his reservations regarding the project. You don't have any reasonable plan to mitigate the devastation south of Fargo. Your benevolent offer to build a 17-foot-high ring dike in the middle of an 80-square-mile reservoir has been rejected by Bakke, Hickson, Pleasant township and a significant, if not yet the majority of, the residents of Oxbow.
What you do have is a pack of high priced engineers telling you what you desperately want to hear, while taking millions of tax dollars every month to do endless plans and studies. What you do have is a large and growing opposition, well organized, led and financed, involving 35 political entities to your south: counties, townships, cities and school districts that will fund litigation for years to come. Isn't it time Fargo leaders that you check your facts and fold this losing hand? Isn't it time to direct those high priced engineers to come up with a flood protection plan that benefits the entire Red River Basin, and not just Fargo, while there is still a political will to do so?
Views: 29