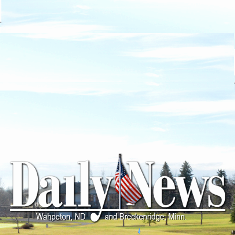 Richland-Wilkin Joint Powers Authority
Original Publication Date: August 16th, 2012
Republished with persmission from:
South Valley residents stepped up to the plate with open checkbooks Monday night in Christine. Leaders of the Wilkin-Richland County Joint Powers Authority outlined plans to commence legal action to stop construction of a dam and reservoir as part of Fargo's Red River Diversion Project. A standing room only crowd in the Christine Community Center swelled with support for defending their homes and livelihoods from a development land grab by their urban neighbor to the north. MnDak Upstream Coalition has pledged $75,000 to help finance a legal challenge. Wilkin and Richland counties have pledged their financial support.
Wilkin and Richland JPA members don't object to a diversion project that would defend Fargo and Moorhead from the Red River. But additional land proposed to be taken out of the flood plain south of where the Wild Rice and Red rivers meet is largely to blame for the planned dam and reservoir that would back up water as far south as Abercrombie. Research data developed by the Red River Basin Commission indicates basinwide retention could eliminate most of the negative impacts of a diversion. Trimming back Fargo's expansive plan to take 72 square miles out of the flood plain, as well as running more water through town during a flood can eliminate the need for a dam and reservoir.
Leaders of the upstream resistance have vowed their determination to stop the dam and reservoir through political, legislative and judicial means. This is Fargo's project. Federal authorization could be years away. Funding may be much further. There are currently more than 1,000 unfunded, but authorized construction and study projects. Minnesota has spent $95 million to protect Moorhead above the 100-year-flood level and hasn't shown interest in more expense. North Dakota's governor has indicated his reservations about Fargo's current plan to flood its neighbors to the south. There is time for the state and region to design a plan that makes sense.
Monday's meeting demonstrated the resolve of our counties' residents to step up to the plate and swing the bat at the spitball they are being thrown. We're pretty sure they'll get a hit.
Views: 39