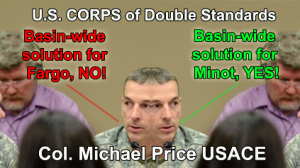 Republished with permission from:Richland-Wilkin Joint Powers Authority
Original Publication Date:
June 20th, 2013
Wahpeton Daily News
Republished with permission from:
Cash Aaland, Richland Resident and board member of the Mndak Upstream Coalition
Let's do a little memory test. How many times have you heard that a basinwide solution won't protect Fargo from a flood? It's been stated at every public hearing I've been at.
Let's try another one. How many times have you heard the U.S. Army Corps say upstream storage won't protect Fargo?
It's been in countless newspaper articles and publications by the Diversion Authority and the Corps. They say it won't work, or it costs too much. Yet, the Farm Bill the Senate just passed has money to build the distributed storage. But forget that. The message is blinking in neon lights, "The Army Corps and the Diversion Authority say basin-wide flood protection does not work."
Wait a minute. Did anyone see the recent stories about Minot's flood protection? They had a bad flood in 2011. A really bad flood. It's the one Fargo says they don't want to happen to them. Good idea. So how do you think the U.S. Army Corps wants to solve the problem? Here's a quote from a Prairie Public Broadcasting story from last week:
"Col. Michael Price with the Corps of Engineers says everyone realizes that the Souris must be managed for the entire basin. 'We can't just protect the city of Minot,' said Price. 'We just focus on Minot, we're foregoing all the other downstream communities … Right now, the agreement is clearly focused on a target flow in Minot, but it takes into account the entire basin. So what the Souris board, the Corps and the state are looking at doing is looking at the entire basin to see what changes we can make so that this doesn't happen again.'"
Go ahead, read that last paragraph again. The supervisor of the St. Paul Corps office that is planning the Fargo diversion, says basin-wide water management is the only solution for protecting the flood ravaged city of Minot. He said they can't just look at protecting Minot without foregoing the other communities downstream.
Maybe that's the catch. We're upstream.
Maybe it's like Alabama. Stick those folks in the back of the bus. Or, maybe it's the fact that Fargo has paid the Army Corps to do what they tell them to do, like push the diversion as far south as possible so they can have more room for development. Or, maybe Col. Price didn't think what he said in Minot would get all the way across rural North Dakota to Christine.
Views: 17