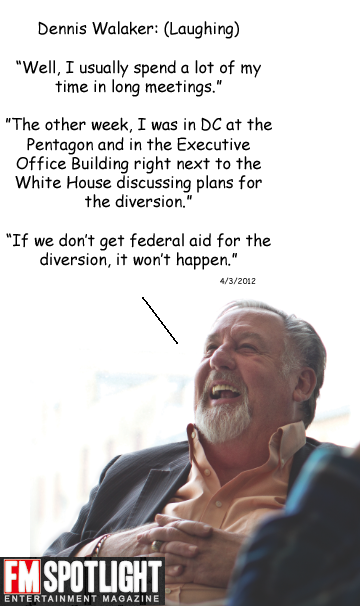 The Fargo Forum could learn a thing or two from the Wahpeton Daily News.
It's refreshing to read a piece from an editorial board representing both sides of a matter with the facts at hand without bloviating comments denigrating the opposition.
There is no basis that the proposed project is a "foregone conclusion".
Economic development is not a valid argument to postulate "we have a right to your land" to build the Fargo Moorhead Dam and FM Diversion.
Two thumbs up to the Wahpeton Daily News for an excellent editorial.
---

Original Publication Date:
August 15th, 2012
Wahpeton Daily News
The Richland-Wilkin Joint Powers Authority (JPA) is on the right track in the fight to defend Richland and Wilkin counties from the proposed Fargo-Moorhead Red River Diversion plan. The JPA has a legitimate argument against the diversion with North Dakota and Minnesota law backing their position. Thankfully, it appears that the U.S. Army Corps of Engineers and the Fargo-Moorhead Diversion Authority have not dotted their I's and crossed their T's with the proposed plan yet. The JPA is working to ensure the diversion plan is lawful, while still protecting Fargo and Moorhead from future flooding.
The current diversion plan is to protect Fargo-Moorhead from flooding and includes land for future economic development. North Dakota's Constitution prohibits taking private property to facilitate economic development. In Minnesota, the Diversion Authority and U.S. Corps of Engineers failed to justify where the expanded project would qualify under the law, and by failing to do so it does not meet with standards set by the Minnesota Environmental Rights Act. The proposed plan's violations, or errors, render the Final Environmental Impact Statement both inaccurate and unlawful.
We agree with the JPA that the destruction of communities through eminent domain is an abuse of power. Clearly, there are better alternatives available to provide Fargo-Moorhead with the protection both cities need, but the law is on the side of the JPA.
The scope of this project is enormous and an apparent top priority of the U.S. Army Corps of Engineers. With that being said, it is somewhat surprising and a breath of fresh air that both entities left themselves vulnerable by proposing a plan that apparently violates laws in North Dakota and Minnesota. Perhaps last minute alterations of the project's objectives are to blame as officials may have not had sufficient time to properly vet the changes.
Thank goodness the JPA is taking a stance on this project and is looking deep into the plan to find ways to help protect our communities from a bad, if not greedy, diversion plan.
Views: 70