<< Read and Download Original Comment Letter >>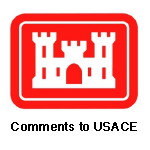 Oct. 30,2011
US Army Corps of Engineers
St. Paul District
Fargo-Moorhead Metro Flood Project
I believe that almost everyone will agree that something must be done about the ongoing flood problems in the Fargo-Moorhead area. I however, strongly oppose the current plan for two main reasons.
1. It appears that the current plan would have the metro area solve their problems at the
   expense of their neighbors both up stream and downstream. Additional flows to the
   north would aggravate already flood pron~ towns between Fargo and the border. The
   latest plans would devastate Oxbow, Hickson, and create major financial problems
   for the Kindred school district as well as farm sites and land all the way down to
   Richland and Wilkin counties. This is inexcusable. Why implement a plan that only
   causes more problems in other areas?
2. The current plan is estimated to cost $1.8 billion. The option of placing the diversion on
   the Minnesota side of the river is roughly $1 billion less and has far fewer environmental
   issues. This is a much cheaper and better way to handle this problem. Another less costly
   option may be to dike the river like was successfully done in Grand Forks, ND following the
   disastrous flood of 1997. This created no ill affects either upstream or downstream.
Views: 5