<< Read and Download Original Paulette Orth Comment Letter >>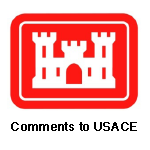 October 31,2011
Dear US Army Corps of Engineers;
I am writing in regards to the diversion channel plan. Please take into account the concerns I have about building a diversion channel verses combining alternative methods.
1. The effects of a diversion channel on neighboring communities,
   farmland, and the environment need to be addressed. Much of
   our rich soil will be covered in cement. During years of low rain fall water that would have
   been absorbed into the land thus filling our water table will be destroyed. Our relationship
   with neighboring communities, rural homeowners, to the land it self will be forever affected.
   That effect in its self could be catastrophic.
2. With the alternative plans in place (see below) … No matter how much water we
   would have to deal with "if" a catastrophic flood "should" happen the flooding would be
   minimized to a level we surely could take care of.
3. The cost of a Diversion Channel is appalling compared to what it would cost to
   create eco friendlier alternative measures.
4. Wetlands and grasslands are important and can play a major role in flood control
   while enhancing our environment.
Thank you for your time and consideration to what a major, safe, role alternative measures can do to illuminate flooding while protecting our area's natural resources verses building a diversion channel.
Sincerely,
Paulette Orth
Fargo ND
Alternative measures:
Relocating Structures
Restoring wetlands and using grasslands for water storage
Constructing levees, floodwalls, and/or pumps
Views: 3