<< Read and Download Original Jon Rich Comment Letter >>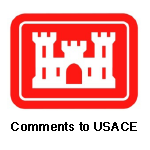 11/3/11
US Army Corp of Engineers Headquarters
Attn CECW-P{lP)
7701 Telegraph Rd
Alexandria, Va 22315-3860
I am writing to you about my opinion on the big FARGO diversion project. The corps of engineers and the local sponsors say there is no alternative but they the local sponsors meaning Fargo have chosen a level of flood protection far beyond that of any city in Minnesota and North Dakota and so they end up supporting a very expensive project that is unrealistic and serves only to support development of land in North Dakota that never should be built on. It's not about protecting the current residents of Fargo Moorhead it's about protecting low lying land for future development in Fargo. And why should Minnesota and North Dakota pay for Fargo to continue to build of flood prone land? Moorhead is on the road to taking care of their entire flooding problem with a diversion.
Good farmland and farms will be destroyed including century old farmsteads. These farmsteads have been and will be peoples live hood. These families have put lots of work into keeping these farms going. It's now like just relocating a house. Cemetery's will be under water and need to be moved. This diversion would be against Federal ,laws. It would be cheaper to move it closer to Fargo. Fargo does not have the money in place to pay for this project—how much will everyone inside the diversion be taxed or have special assessments put on their property? They have not even started to estimate the cost of relocating all the farms much less paying for the cropland that will be destroyed. What will happen to flooding from the Sheyenne river when they build up the Horace road? Then what happens in Clay county when flooding occurs there- the water is not just going to stop along highway 46. Many farms in Clay county will also be destroyed along with the community of Comstock.
I am a North Dakota born and proud to be raised and educated in Kindred, ND and college in Fargo, ND. This diversion project is not right. We need alternatives to this massive expensive project. This flooding of the Red River Valley needs cooperation from many. We need to look at the many alternatives – the drain tiling farmers do, putting back ponds and buffer zones along the river, buying up some of the houses and land along the river but no destroying family farms at the expense of developers.
Sincerely,
Jon Rich
20891 AZTEC ST NW
ANOKA, MN 55303
Views: 2