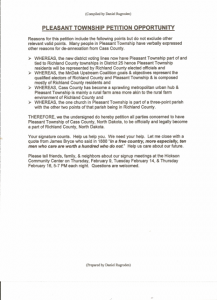 Submitted by: Daniel Rugroden
Reasons for this petition include the following points but do not exclude other relevant valid points. Many people in Pleasant Township have verbally expressed other reasons for de-annexation from Cass County.
• WHEREAS, the new district voting lines now have Pleasant Township part of and tied to Richland County townships in District 25 hence Pleasant Township residents will be represented by Richland County elected officials and
• WHEREAS, the MnDak Upstream Coalition goals & objectives represent the qualified electors of Richland County and Pleasant Township & is composed mostly of Richland County residents and
• WHEREAS, Cass County has become a sprawling metropolitan urban hub & Pleasant Township is mainly a rural farm area more akin to the rural farm environment of Richland County and
• WHEREAS, the one church in Pleasant Township is part of a three-point parish with the other two points of that parish being in Richland County.
THEREFORE, we the undersigned do hereby petition a" parties concerned to have Pleasant Township of Cass County, North Dakota, to be officially and legally become a part of Richland County, North Dakota.
Your signature counts. Help us help you. We need your help. Let me close with a quote from James Bryce who said in 1888 "In a free country, more especially, ten men who care are walth a hundred who do not." Help us care about our future.
Please tell friends, family, & neighbors about our signup meetings at the Hickson Community Center on;
Thursday, February 9, 2012
Tuesday February 14, 2012
Thursday February 16, 2012
5-7 PM each night.
Questions are welcomed.
Views: 87