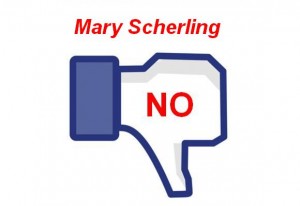 Published: October 27th, Fargo IN-Forum
Author: Marcus Larson, Pleasant Township resident.

Mary Scherling's Oct. 13 opinion paints a stark picture of a District 5 rural-seat commissioner candidate lacking the necessary skills to serve the constituents of Cass County.
To have the gall to patronize and preach to the residents of Pleasant Township, without having first taken the time to meet with the residents and discover the issues Pleasant Township residents have with Cass County, underscores that Scherling is just another pro-agenda "vote for Fargo" via the Cass County Commission.
Scherling's home residence of 7508 Chrisan Way, Fargo, should be enough to disqualify her as a rural candidate, as she resides within Fargo city limits. Oddly, rural residents are not allowed to run for nonrural seats.
In addition, Scherling's failure to avail herself to open debate with other candidates suggests cowardice. Scherling instead crafted a well-worded message, which was unilateral in nature, to be read by the moderator without the benefit or fear of rebuttal.
Scherling's speculation of gloom and doom on taxes between Richland and Cass counties is weak at best because the two counties bundle their taxes differently. Rather than higher taxes, Pleasant Township would bring with it significant tax revenue to Richland, potentially lowering the mill levy for the entire county. Not to mention, the residents of Pleasant Township would receive actual representation by their new commissioners.
However, Scherling's baseless attack on the impetus of "why" Pleasant Township has petitioned to leave Cass County gives potential voters a true taste of how little she will look into a matter before she passes misguided judgment.
Rather than challenging Cass Auditor Mike Montplaisir's clever ballot verbiage, Scherling chose to parrot his political ballot manipulation, completely ignoring the fact that Pleasant Township falls entirely in legislative District 25, which includes a major portion of Richland County.
Whether the ill-conceived Fargo-Moorhead dam and diversion ever gets built, residents of Pleasant Township still want representation for the taxation they pay. The Cass County Commission is good at telling Pleasant Township what's best for us, instead of listening to us. After all, the current commissioner from District 5 has been missing throughout this process. Scherling is already singing the same song, different verse.
I urge the voters of Cass and Richland counties to vote "yes" on the Pleasant Township de-annexation ballot question.
Read Mary Scherling's Reply and additional commentary. →
Views: 280