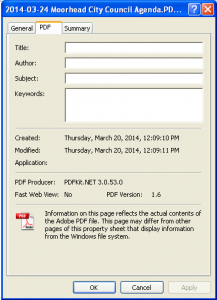 Moorhead City Michael Redlinger used his alleged superpowers to look into the future and predict the Moorhead council agenda Item No: 16 outcome.
Although the city council agenda was compiled and disseminated via the city website on Thursday, March 20th, 2014 – Moorhead City Manager Redlinger notes a "Request for Council Action" vote as being passed, four days prior to the vote occurring.
Note the date stamp from the file located on the right. ➩
• View Request for Council Action
• View MOU
At issue is an MOU (Memorandum of Understanding), wherein, Moorhead is named, however, flood walls, dikes and levees were previously undertaken "separately" by the city.
What is the ulterior motive for including Moorhead in the MOU? It does raise questions if an attempt to further prejudice the entire project and cloud issues, already rife with manipulation, is occurring.
On January 14th, 2014, the Minnesota DNR was expressly clear on Moorhead or MN participation:
Excerpts from Jan 14th MN DNR Letter:
"Minnesota law, like federal law prohibits a governmental unit from taking any action on a project including both construction of all or any part of the project and the acquisition of property in anticipation of construction, if the action will prejudice the ultimate decision on the project, until the final EIS has been completed and found to be adequate. "Prejudicial actions are those that limit alternatives or mitigative measures or predetermine subsequent development. In other words, actions that makes one option, including the option of not building the project, more or less likely to be chosen." Minn. R. ~ 4410.3100."
"Therefore, it would be unlawful for any Minnesota governmental unit or organization of which it is a member to commence work on a component of the Diversion Project unless there is an independent basis for that component part separate and apart from the Diversion Project. Put another way, a Minnesota local unit of government cannot participate in the construction of a component part of the larger Diversion Project which is undergoing environmental review unless it can be demonstrated that the component part would be built and the public expenditures undertaken even if the full Diversion Project was never built."

How is possible for Moorhead, Clay or MN watershed districts to participate in voting where MOU's, land acquisition or future development related to the proposed Fargo Dam and FM Diversion are included?
Where is the Moorhead city attorney in this matter? Is sage legal advice being offered…, or are there other socio-economic-political pressures being used to compel council votes? In short who does Moorhead city attorney or council work for, Moorhead or other interests?
It would be in the interest of Moorhead residents to urge their council person to comply with MN law, so as to avoid creation of undue tax burdens and project related consequences to Minnesotans.
Views: 190