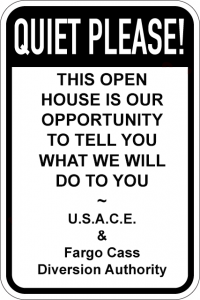 Republished with permission from:Richland-Wilkin Joint Powers Authority
Original Publication Date: July 5th, 2013
Wahpeton Daily News
Republished with permission from:
Leah Rogne, Richland County landowner and member, Mndak Upstream Coalition
From town hall to dog and pony show – The U.S. Army Corps of Engineers has a whole new way of defining "open."
Hundreds of concerned citizens attended a June 25 meeting in Fargo to discuss the latest Environmental Assessment for the proposed F-M Diversion, but the Corps closed the floor to any public discussion of the latest changes in the project. Instead, they required people to talk in private with individual agency staff members located at the back of the room.
This "open house" format has in recent years become an increasingly common way for public agencies to fulfill the letter of the law that requires public input. Staff members are stationed around the room with displays of graphs, photos, and data. Attendees circulate around and ask questions, and – we're told – their comments are recorded as public comment. Then, agency staff members appear on a panel to present the latest report, but with no opportunity for open dialogue with those who have come with concerns.
This approach has been touted by planners to be a good way to prevent a group of citizens from dominating the discussion. In a democracy, that's always a possibility. Is this a good way to handle that, though? Do we have no discussion at all?
The beauty of all this is that there is no way for the media to report the response of the public to the project or new idea and no chance that staff members would be caught off guard and be publicly taken to task. The comments – if indeed are recorded – are packed away in the staff members' papers and taken back to the agency, to be filed as evidence that public input has occurred.
Anyone who has ever been to a township meeting or precinct caucus or some other grassroots meeting to engage in the democratic process knows that it can be messy and strong feelings may be expressed. But that's the way we do it in this country. We come together with our neighbors to discuss openly our future. And we learn from each other in the process.
Views: 22