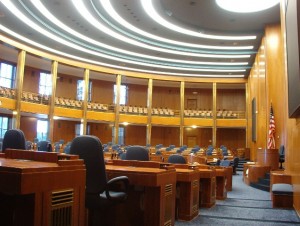 The North Dakota House passed House Bill 1020 containg State Water Commission funding for the next two years, the vote passed 90-4.
Dissenting votes were few:
House representatives voting against were:
Chuck Damschen, R-Hampden,
Ben Hanson, D-West Fargo
Dwight Kiefert, R-Valley City
Jim Schmidt, R-Mandan
Representative Bob Skarphol, Tioga, ND indicated that the State Water Commission's budget bill was amended so that no money can be spent on property acquisition or ring dikes in the area south of Fargo that will be affected by the diversion.
The budget includes $100 million dollars for Fargo to raise its diking system to 42 and a half feet.
In typical Fargo Forum four alarm fear fest, headlines include politically charged sensationalism like "diversion killing", "scuttle" and "misinformation".
Not dissimilar from the earlier opinions of Forum management and the newspaper's Editorial Board in applauding that upstream interests not being allowed to testify at the Civil Works Review Board on September 23rd, 2011 or Kent Conrad's budget hearing August 10, 2011.
The North Dakota State Legislature faces a unique set of challenges, wherein, federal funding may never come in a $16.6 trillion dollar (and growing) national debt and more than 30-60 projects ahead of Fargo's incomplete study and design.
House Bill 1020 provides financial assistance to Fargo so they may complete dikes, levees and flood walls to 42.5 feet and provide Fargo with more than adequate flood protection for its residents and businesses.
Views: 138