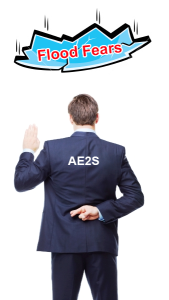 It can be hard to explain the scope of questionable behavior by Fargo Diversion Authority proponents.
If project supporters had their way, they would label any opponent as someone that wants Fargo to flood and should be a candidate for the nut-hut.
Generally speaking, opponents of the Fargo dam and diversion project living upstream, downstream and within Fargo are appalled that Fargo has not completed internal flood protection to thwart the oft touted "next big one".
Even more imbecilic is pumping over $60 million into a brand new golf course, clubhouse, swimming pool and housing relocates complete with 200 – 500 percent upgrades – then running out of money and going back to the state begging for more dollars ($180 million) to develop flood retention protection south of 52nd ave South.
Concentric to the mis-characterizations of project opponents is AE2S (Advanced Engineering and Environmental Services). AE2S wears several hats relating the dam and diversion project, quasi Project Managers/Public Relations with their fingers deeply behind the contentious Diversion Project Assessment vote and spin doctors vetting letters and media talking points relating to the overall project.
Eric Dodds was in attendance at an informal meeting mid-summer 2014, wherein, Dodds trotted out the false comparison of "what if Fargo experiences a Minot style event". To which I quickly pointed out that comparing Minot and Fargo floods is disingenuous. I explained that valley in Minot along Broadway is less than 4,000 feet wide, whereas, a similar event in Fargo would need a flood nearly 90,000 feet (17 miles) wide. Dodds, apparently insulted by a layperson retorted "flooding isn't about topography"…, to which I replied "it most certainly is!"
Y'see with Dam and Diversion Proponents, it is always about inserting fear to steer discussion that compliments their agenda…, and these are people whose sole job is nebulous to creating the fear and backstory that generates future income for themselves and the firms that they work for.
So let us take a look at a recent email (below) sent by Eric Dodds, AE2S. The mere fact that Dodds chose to draw attention to a matter in anticipation of potential criticism suggests there is considerably more to the story and damage control being attempted. Keep in mind, this is just ONE of HUNDREDS of emails since the inception of the Fargo Dam and FM Diversion project.
The list of recipients is rather curious, especially when the email greeting begins with "FM Diversion Team".
Curious, I was not aware that Jill Townley of the MN DNR was a member of the "FM Diversion Team"…, and yet the Fargo Diversion Authority spin doctors accuse upstream interests of influencing the Minnesota DNR.
How is it possible for several of the attorney recipients to be representatives of various boards and political entities and not have a conflict of interest as being addressed as a member of the "FM Diversion Team".
Wow…(massive eyeroll)!
However, the most curious items are the red flags…
[1] Pat Zavoral joined AE2S in October after retiring from the City of Fargo. We recently published a new hire announcement indicating Pat's employment at AE2S. This announcement ran in the Forum late last week
So why would AE2S wait 2 months to announce Pat Zavoral joining their team?
[2] Pat is working part-time for AE2S and brings a wealth of experience and leadership from his long career working for the City of Fargo, especially on large civil works projects.
Part-Time or Full-Time…, does it really matter? AE2S makes a definitive statement that Pat Zavoral "brings a wealth of experience and leadership from his long career working for the City of Fargo".

Does Zavoral's wealth of experience undermine or subvert Fargo's ability to keep engineering and project management hands out of taxpayers pockets? What doors, access or influence does Zavoral provide AE2S beyond that of any other employee?
[3] Pat was a strong leader for the FM Diversion project
Refer to item [2]
[4] as he aimed for retirement, both Pat and AE2S felt that he could continue to provide consulting support for the project.
Oh really….? So prior to Zavoral's retirement, discussions favorable to future employment and/or consulting were taking place…? Could inside information have been exchanged during these discussions?
[5] prior to Pat starting with AE2S
Refer to item [4]
 [6] he has only logged very limited hours (less than 25 hours) to the Diversion project,
Odd that Dodds felt compelled to specifically address the subject of hours logged. Who really cares about the hours logged. 25 hours or "expert" knowledge can easily equal hundreds of hours of regular staff hours. Does any rationale person believe that every email, phone call and hallway discussion actually gets logged?

When Dodd's prefaced his statement with the words "As proof of that" raises questions on the amount of un-logged hours that may invariably be involved.
Really have to thank Eric Dodds for bring this matter to light and displaying one of the many ways that proponents spin their narratives…
——————– Begin Forwarded Message ——————–

From: Eric.Dodds@AE2S.com

Date: December 20, 2015 at 9:48:26 PM CST

To: Heather.Syverson@AE2S.com, awalker@cityoffargo.com, bob.zimmerman@ci.moorhead.mn.us, belmer@cableone.net, brian.berg@co.clay.mn.us, Bruce.Spiller@CH2M.com, David.Overbo@co.clay.mn.us, vanambur@cord.edu, wanda.wagner@cityofmoorhead.com, kcarlson@cityoffargo.com, BerndtK@casscountynd.gov, KCostin@cityoffargo.com, Mark.Lambrecht@ae2s.com, MBittner@cityoffargo.com, michael.redlinger@ci.moorhead.mn.us, mthorstad@dsiautomotive.com, nancy.otto@cityofmoorhead.com, Olsonrodger@aol.com, Scott.Ingvoldstad@CH2M.com, tmahoney@cityoffargo.com, Tom.Waters@CH2M.com, Gail.Chamberlain@CH2M.com, John.Glatzmaier@CH2M.com, Martin.Nicholson@CH2M.com, Rocky.Schneider@AE2S.com, pawlukk@casscountynd.gov, Steve.Burian@AE2S.com, Kristi.Knudson@AE2S.com, Don.Giovannetti@ch2m.com, Terryl.L.Williams@usace.army.mil, Daron.Selvig@AE2S.com, brett.r.coleman@usace.army.mil, matthew.chiller@ch2m.com, delrae.williams@ci.moorhead.mn.us, mari.dailey@ci.moorhead.mn.us, jim.haney@ci.moorhead.mn.us, heidi.durand@ci.moorhead.mn.us, mike.hulett@ci.moorhead.mn.us, chuck.hendrickson@ci.moorhead.mn.us, steve.gehrtz@ci.moorhead.mn.us, chad.olson@ci.dilworth.mn.us, lee.beauvais@mooreengineeringinc.com, cgthielman@houstoneng.com, jakengust@gmail.com, markbrodshaug@gmail.com, mjwilliams@cityoffargo.com, msobolik@cityoffargo.com, bennettv@casscountynd.gov, petersonc@casscountynd.gov, Dustin.Dale@ae2s.com, Jacob.Strombeck@AE2S.com, ejohnson@lawfargo.com, NMorris@lawfargo.com, jshockley@ohnstadlaw.com, cwhitney@fmwfchamber.com, epeterson@fmwfchamber.com, bgrubb@cityoffargo.com, dpiepkorn@cityoffargo.com, Nick.Stattelman@ae2s.com, morrielanning@gomoorhead.com, tyler.smith@CH2M.com, Tanaya.Reitz@AE2S.com, Jeremy.Higgins@CH2M.com, Nancy.Otto@sanfordhealth.org, camphouse@cableone.net, scherlingm@casscountynd.gov, LewisC@casscountynd.gov, sstenger@prosourcetech.com, khelvey@srfconsulting.com, John.Albrecht@ch2m.com, Paul.Breen@AE2S.com, "Robert Cattanach" Cattanach.Robert@dorsey.com, "Darrell Vanyo" dvanyo@hotmail.com, Dan.Lissick@AE2S.com, "Townley, Jill (DNR)" Jill.Townley@state.mn.us, "Nathan Boerboom" NBoerboom@cityoffargo.com, brrwd@bvillemn.net, "Tami L Norgard" tnorgard@vogellaw.com

Cc: Pat.Zavoral@AE2S.com, Rocky.Schneider@AE2S.com, Steve.Burian@AE2S.com

Subject: Head's Up – Media Attention Regarding Zavoral's Employment at AE2S

FM Diversion Team,

I would like to make sure you are aware of a likely "hot media topic" on Monday. As many of you know, [1] Pat Zavoral joined AE2S in October after retiring from the City of Fargo. We recently published a new hire announcement indicating Pat's employment at AE2S. This announcement ran in the Forum late last week and has gained the attention of several diversion critics, and potentially others. We have been alerted that this issue will be a topic on the talk-radio shows tomorrow. As such, I wanted to give you a head's up.

[2] Pat is working part-time for AE2S and brings a wealth of experience and leadership from his long career working for the City of Fargo, especially on large civil works projects. As many of you know, [3] Pat was a strong leader for the FM Diversion project when he was at the City, and [4] as he aimed for retirement, both Pat and AE2S felt that he could continue to provide consulting support for the project. That being said, we recognized [5] prior to Pat starting with AE2S that having him work on the Diversion Project could be a polarizing topic. As such, we have opted to have Pat focus on projects and initiatives other than the Diversion. As proof of that, since Pat started in early October, [6] he has only logged very limited hours (less than 25 hours) to the Diversion project, and most of those hours have been for internal coordination to assist with capturing historical knowledge and helping with his transition.

I am hopeful that you understand this situation, and I'm hopeful that Pat's employment at AE2S can be viewed positively. If you have any questions about Pat's employment or this situation, please do not hesitate to contact me or our CEO, Steve Burian.

Thanks,

Eric C. Dodds, PE
Operations Manager
Advanced Engineering and

Environmental Services, Inc. (AE2S)
4170 28th Avenue South
Fargo, ND 58104
Eric.Dodds@AE2S.com<mailto:Eric.Dodds@AE2S.com>
www.ae2s.com<http://www.ae2s.com/>
Voice: 701.364.9111
Fax: 701.364.9979

——————– End Forwarded Message ——————–
Views: 587