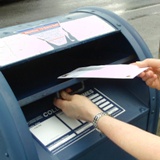 by: Wayne and Phyllis Johnson
In response to the plans for the Fargo-Moorhead diversion project, we have the following observations as landowners and residents of Pleasant Township for 21 years:
• To use some of the best agricultural farming land in the world as a holding area for water in order to protect Fargo-Moorhead seems like a waste not only to this farming community but the United States as a whole, as it produces a lot of valuable crops for the nation.
• To take a large area that is populated with people who have been there through many generations disregards their rights. Some of these farms have never been affected by flooding; they are miles away from the river.
• Other areas of the state where they have "reservoirs" are in areas of sparse population and the land is unsuitable for farming. It appears those "holding areas/reservoirs" are out of control and not being properly handled at this point either. Why add more?
• The diversion project – as it appears – would not deal with serious flooding in the Kindred, Davenport and Harwood areas near the Sheyenne River. With this much money and land involved, this should certainly be included in any planning, or are these areas unimportant in the big scheme of things?
• What about the "water holding" area including Interstate 29? Is that to be relocated or perhaps a very long bridge put in place so that it won't be under water as well? County Road 16 has in the past been the "snow emergency" route. Apparently they will reroute that as well.
We are disappointed that with so many intelligent people involved, so many years of planning as well as passing a tax in order to pay for this, that it would wipe out communities, ruin a school district as well as relocate two cemeteries, a church and destroy valuable farmland and historical sites. This plan disregards the rights of many people in order to concentrate solely on the Fargo-Moorhead area.
During the flood of 2009, we found out how concerned, fair and effective the Corps of Engineers really is. While our basement was filling with water from overland flooding, they made the decision to put up an earthen dike to the east of our property in order to prevent water from going over County Road 16 to the north. We were not informed of the intent to do this, which legally is supposed to be done if it affects the level of water that comes onto your property.
As a result of their actions, we had water on the back level of our house – very close to taking the main level of our home; this has never happened before. We had 2 feet of water in our shop; our neighbor to the west had 36 inches of water in his shop – it has never been that deep before. A neighbor to the west almost lost his home. In his yard, a grain bin with soy beans split from the water and moisture that got into it.
We are not impressed with the outcomes of their carefully laid plans and open communication. We cannot and will not support the diversion plan.
Views: 5