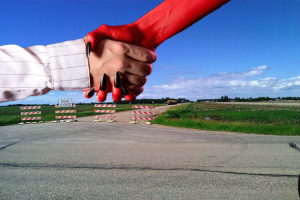 When you make a deal with the devil, don't complain about the terms.
Who is the devil,  in this case?  Anyone promising the existence of a favor, opportunity, enrichment or means to end that they could not possibly get by themselves.
The Fargo Dam and FM Diversion project is, and has always been a development project peddled under the guise of flood control.
In an June 11, 2015 WDAY News story, the president of the F-M Home Builders Association asserted that nearly 1000 workers would be involved in building 40 homes and potentially without work as a result of the federal injunction in place against the OHB (Oxbow Hickson Bakke) feature of the overall Fargo Dam and FM Diversion project.
Without question, nobody wants to have their source of income "interrupted" by delays. However, a willful action was taken by the Fargo Diversion Authority to retaliate against the Richland Wilkin JPA for filing a MERA (Minnesota Environmental Rights Act) claim against proposed project. Court filings indicate the Minnesota DNR was considering a variety of alternatives that would eliminate the proposed flooding of Wilkin County and would also eliminate or substantially reduce the proposed flooding of Oxbow, Hickson and Bakke.
The devil is in the details, or so the saying goes…., and that statement has never been more true, where the Fargo Dam and FM Diversion project is involved.
Let's take a little trip back in time to 2010.
Fargo was faced with the options of protecting the city that existed or rolling the dice on a development plan for area home-builders and realtors. Before Cass county residents had a chance to cast their ballots in the 2010 election, proponents were busy promoting their development project via a ballot measure.
Curiously, the Coalition for Cass County Flood Protection had the identical 1802 32nd Ave S, Fargo, ND office address as the Home Builders Association of Fargo-Moorhead. So despite numerous disingenuous protests by local officials and project proponents claiming that the Fargo Dam and FM Diversion project is not about development…, the address listed on the campaign contribution statement is none other than the HBA – Home Builders Association of Fargo-Moorhead.
Well, that must just be a coincidence…
It's also probably a coincidence that the measure was backed with $31,000 in PAC money from Realtors and Home Builders Associations, $5,500 from banks and $3,750 from engineering firms and their owners.
Hmmm…, over $40,000 in campaign contributions coming from entities that all stood to make money off the development project and their current HBA president is lamenting the loss of jobs that should not have even started in Oxbow, ND.
Fast forward to 2014.
January 14, 2014 MN DNR warns Fargo Diversion Authority about commencing construction.

April 22, 2014 MN DNR warns that construction commencement would be a violation of law.

June 13, 2014 Richland Wilkin JPA files MERA claim and requested the issuance of a declaratory judgment that commencement of any part of the Fargo-Moorhead Flood Control Project (including the OHB Ring Dike) prior to completion of the MN environmental review and grant of all necessary permits is unlawful.

June 17, 2014 Bruce Spiller, Project Manager, issues a LIMITED NOTICE TO PROCEED

June 18, 2014 Fargo Diversion Authority withdraws Section 404(b)(1) holding up OHB project.

June 20th, 2014 (am) Cass County 25 was closed without prior public notification.

June 20th, 2014 (pm) Bruce Spiller, Project Manager, issues a NOTICE TO PROCEED

June 23rd, 2014 Construction began on the OHB rike-dike-levee.
So despite a "then pending" motion for injunction against a project that did not have all required permits to commence work,  pending the completion of the MN DNR state EIS, the Fargo Diversion Authority made a preemptive move and began construction on OHB.
May 13th, 2015 United States District Judge John R. Tunheim granted the Richland Wilkin JPA's motion for a preliminary injunction against the Authority until further order of this Court. Stating that "ALL" physical construction activities related to the OHB ring levee, if ongoing, must cease immediately.
The Fargo Diversion Authority, Home Builders Association, area builders and Oxbow leaders were all well aware that the motion for injunction was pending before the court, but collectively they chose to push their agenda, gambled and lost.
Did I mention that the OHB project was not included in the original
U.S. Army Corps of Engineers Final Environmental Impact Statement?
Regardless, complaining about found money tied to a project feature that provides ZERO FLOOD PROTECTION BENEFIT to Fargo, which should not have commenced in the first place, is on those entities that chose to take that risk.
Residents of Oxbow, ND are not homeless and there is sufficient flood protection in place to handle the next flood.
So…, do we feel sorry for the hogs at the trough when they squeal?
Views: 61