Archive for Flood Plain
You are browsing the archives of Flood Plain.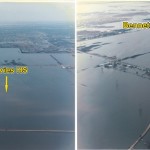 Responsible civic leaders and officials would have restricted development in the area pictured. But instead, the irresponsible talking heads built mutli million dollar schools to drive development where flood water poses the greatest risk.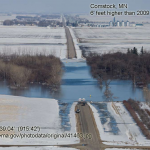 I am familiar with your letter dated Jan. 14, 2014 to Darrel Vanyo, warning Fargo's Diversion Authority that this action may violate Minnesota law. After receiving your letter, Fargo-Moorhead's Diversion Authority concocted an "independent utility" story.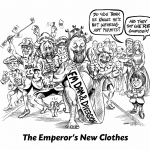 Don't be misled, the law is clear. Minnesota has the final word on whether the Red River gets a dam. The Army Corps is essentially just Fargo's paid contractor for this project, in no way exempt from the requirements of Minnesota law.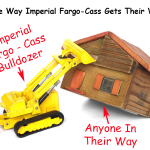 Think of the political side. If upstream residents voice concerns to the North Dakota Legislature, they'll bulldoze 'em with their representatives. They'll even get the governor to sit alongside in the cab. No need to bulldoze the local (Fargo) newspaper, they're supplying diesel for the engine.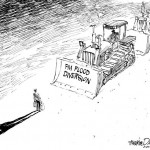 U.S. Army Corps' documents state, and Fargo leaders admit, this plan is about growth and was designed to remove the FEMA flood plain controls from 70-square miles of flood-prone land and provide protection to the city of Fargo.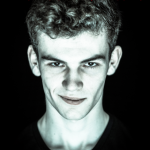 Aaron Snyder, U.S. Army Corps: "we want your land, or we'll take it from you." Message to Richland and Wilkin County Commissioners a year and a half ago.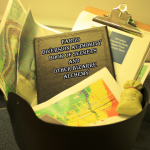 Fargo Diversion folks used creative accounting to justify their project to Congress. They couldn't get a good enough benefit/cost ratio to have any hope of getting funded, so, they cooked the books.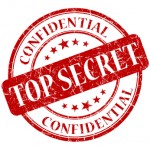 Fargo Diversion Authority delays releases of half million dollar taxpayer funded Red River Basin Commission Long Term Flood Solution study that damages U.S. Army Corps of Engineer project claims.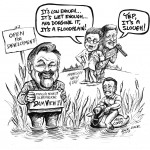 Fargo's media criticizes Moorhead for being trashy and backward and described as "more than sad." Suggesting that Moorhead has only themselves to blame for their lagging development, they are castigated for failing to take advantage of their natural advantages and lectured on what they should or should not be doing.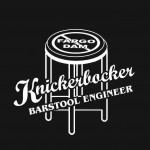 Opponents turn the tables on KFGO personality Mike McFeely attempts to debase opponents to the un-necessary boondoggle known as the Fargo Dam and FM Diversion with various marginalizing statements like "Bar Stool Engineer" which are indicative of mediocre on-air personalities seeking ratings as opposed to serving the public to find a more cost effective solution via pluralism in media.