Archive for Flood Plain
You are browsing the archives of Flood Plain.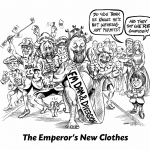 Don't be misled, the law is clear. Minnesota has the final word on whether the Red River gets a dam. The Army Corps is essentially just Fargo's paid contractor for this project, in no way exempt from the requirements of Minnesota law.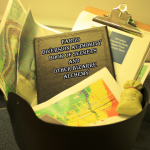 Fargo Diversion folks used creative accounting to justify their project to Congress. They couldn't get a good enough benefit/cost ratio to have any hope of getting funded, so, they cooked the books.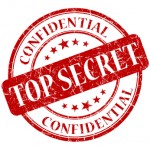 Fargo Diversion Authority delays releases of half million dollar taxpayer funded Red River Basin Commission Long Term Flood Solution study that damages U.S. Army Corps of Engineer project claims.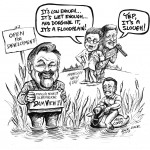 Fargo's media criticizes Moorhead for being trashy and backward and described as "more than sad." Suggesting that Moorhead has only themselves to blame for their lagging development, they are castigated for failing to take advantage of their natural advantages and lectured on what they should or should not be doing.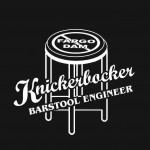 Opponents turn the tables on KFGO personality Mike McFeely attempts to debase opponents to the un-necessary boondoggle known as the Fargo Dam and FM Diversion with various marginalizing statements like "Bar Stool Engineer" which are indicative of mediocre on-air personalities seeking ratings as opposed to serving the public to find a more cost effective solution via pluralism in media.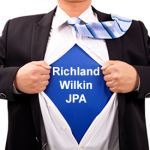 To say the commissioners stepped up would be an understatement. Senators Larry Luick and Jim Dotzenrod, Representatives John Wall, Clark Williams, Jerry Kelsh, Bill Amerman, Perry Miller, Sid Berg, Dan Thompson, Tim Campbell, Jason Heitkamp, Richland County State's Attorney Warren Stokes, Stephanie Miranowski, Lyle Hovland, John Blaufuss, Robert Perry, Neal Folstad, Wilkin County Attorney Tim Fox – thank you.
thank you.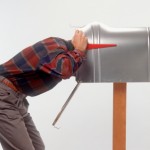 State Water Commission's Chief engineer, Todd Sando, told the Senate Appropriations committee that the state can typically construct a water project for half of what a Corps project would cost.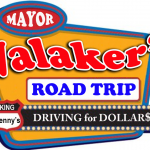 Moorhead's competent leaders completed their affordable permanent protection and now have nothing to fear from the coming flood "Armageddon."
Does Fargo's mayor feel responsible for risking his city by neglecting its dikes and levees just so the $2 billion diversion can be made to appear more necessary?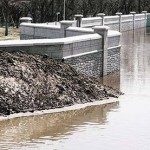 If Fargo doesn't get its diversion, will the Red River Valley stop functioning? Will Fargo face a wall of water running down its streets if the gavel falls against them?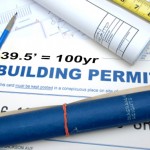 POLL: Cast your vote! Fargo officials have admitted they could have done a better job of permitting. They blame the developers and offer the excuse that the developers have put the city in jeopardy with threats of legal action.