Archive for FEMA
You are browsing the archives of FEMA.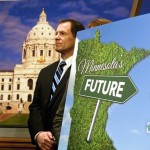 The lowest existing ground level in the new portion of Oxbow, ND requires a 22.5 foot high levee because it is 10 feet lower than the lowest residential property along Schnell drive in Oxbow, ND. However, the FEMA regulatory flood plain indicates the lowest existing properties along Schnell drive are only 10.8 inches below the FEMA regulatory 100 year flood plain.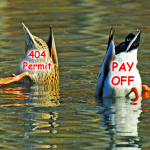 Bruce Spiller: "…correct, when we were in final phase with the Corps we tried to get this moved now uhh, now that we have authorization to try to get mitigation because we are going to have extra wetlands on the whole project, um, and tried to get it to separate it and they basically came back with we wouldn't get a permit if we didn't go to this."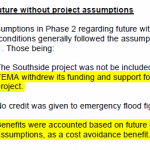 The fact is the location of the diversion alignment with the dam, ditch and levee does not increase the protection of the currently developed area of Fargo vs. more conservative and less expansive flood control plans. The location only gives the city more area to grow without FEMA flood plain regulations.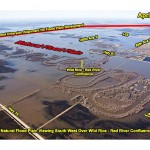 The location of the F-M Diversion dam and levee determines how much of the natural flood plain is "protected" for development. The farther south the dam and levee are located, the larger the portion of Cass County that is protected for subsidized development. It's the area where the water naturally collects as it's been doing since our river system was formed by Mother Nature.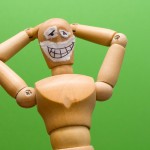 Fargo Forum Editorial Staff uses broad strokes to assail anyone not aligned with "their version" of "remedies" or "realities" of the Fargo Dam and FM Diversion to be as "dumb as a plank".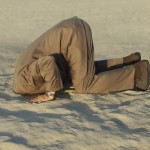 Lack of spring 2014 flooding prompts the Fargo Forum to solicit readers into sharing stories and fears about 2009 flood memories in a shameless attempt to keep the Fargo Dam and FM Diversion project in limelight.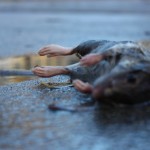 How much water does it take to drown a rat? I suppose it depends on whether the rat can swim, but let's pretend it can't. Is the rat any more dead if it's under an inch of water or three feet of water?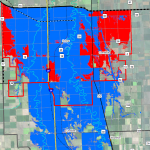 The red box is supposed to indicate less than one-foot of new water from the dam that is part of the planned diversion. FEMA will draw new floodplain maps once the diversion is built, that will prohibit new construction in areas that get flooded as a result of Fargo's plan.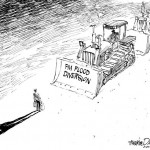 U.S. Army Corps' documents state, and Fargo leaders admit, this plan is about growth and was designed to remove the FEMA flood plain controls from 70-square miles of flood-prone land and provide protection to the city of Fargo.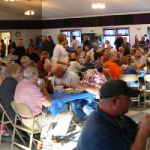 Sunday night, with money in their hands, they came to Christine to preserve their communities and their future.