Archive for Fargo
You are browsing the archives of Fargo.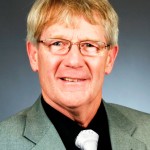 Minnesota Representative Jay McNamar (DFL) speaks out against the Fargo Diversion Authority moving ahead in their own self-interest without knowing possible negative impacts to Minnesota which only prioritizes property owners on the North Dakota side of the river.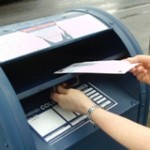 I urge The Forum to please try to save your last bits of journalistic integrity and publish the facts and not propagate propaganda. I realize that in an editorial, you can say what you want without facts backing your position.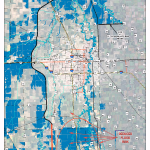 Project Failure: U.S. Army Corps of Engineers fails to explore options and alternative that DO NOT promote encroachment and urban sprawl into the last natural flood plain south of Fargo, ND in direct and indirect violation of Executive Order 11988 (EO11988). More to the point, the limited alternatives explored are concentric to the "exploitation for urban sprawl" into the last natural flood plain south of Fargo, ND.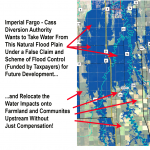 It's unfair and unethical to force family farmers, homeowners and communities to pursue their own costly legal recourse to Fargo's development project. But then again, maybe we're expecting too much of our neighbors and elected leaders.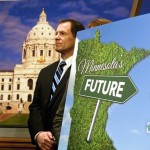 The lowest existing ground level in the new portion of Oxbow, ND requires a 22.5 foot high levee because it is 10 feet lower than the lowest residential property along Schnell drive in Oxbow, ND. However, the FEMA regulatory flood plain indicates the lowest existing properties along Schnell drive are only 10.8 inches below the FEMA regulatory 100 year flood plain.

Fargo Dam and Diversion Costs as of June 30th, 2014 Vendor Name Approved Contract/Invoice Amount Liquidated Outstanding Encumbrance HOUSTON-MOORE GROUP LLC 19,890,094.00 13,119,239.51 6,770,854.49 CH2M HILL ENGINEERS INC 12,491,244.99 11,920,819.01 570,425.98 CASS COUNTY JOINT WATER RESOUR 9,167,398.87 9,167,398.87 – COMMERCIAL TITLE LLC 3,869,541.00 3,869,541.00 – TITLE COMPANY 3,641,500.00 3,641,500.00 – OXBOW. CITY OF 2,935,741.87 […]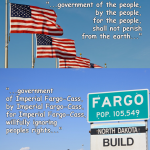 Fargo and Cass county are almost to the point of being the antonym to the very principles that most Americans hold near and dear.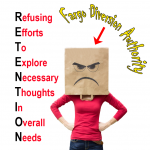 Fargo Diversion Authority refuses to explore retention as a viable flood protection option. Refusal to explore combined alternative underscores the ignorance of city and county leaders pushing a multi-billion dollar dam and diversion project to foster development of the natural flood plain south of Fargo, ND.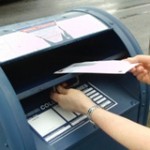 Beth Askegaard and Rolaine Askegaard write to MN Attorney General Lori Swanson to question leaders in St. Paul and Washington value our community, Clay and Wilkin Counties, as belonging to Minnesota. Fargo Diversion Authority insists on developing the natural flood plain south of the city and relocating water impacts onto Minnesota.

Fargo Dam and Diversion Costs as of May 31st, 2014 Vendor Name ApprovedContract/Invoice Amount Liquidated OutstandingEncumbrance HOUSTON-MOORE GROUP LLC 19,890,094.00 13,119,239.51 6,770,854.49 CH2M HILL ENGINEERS INC 12,491,244.99 11,740,819.01 750,425.98 CASS COUNTY JOINT WATER RESOUR 9,167,398.87 9,167,398.87 – COMMERCIAL TITLE LLC 3,869,541.00 3,869,541.00 – TITLE COMPANY 3,641,500.00 3,641,500.00 – OXBOW. CITY OF 2,935,741.87 1,443,439.66 1,492,302.21 ARMY […]