Archive for Davies High School
You are browsing the archives of Davies High School.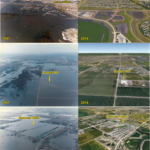 Imperial Fargo and elite developers would not accept permanent internal flood protection for the city that existed. It didn't fit their land grab agenda, they got greedy…, they wanted more. Even if MORE, meant placing the existing city in harms way and property owners in the cross-hairs of mandatory FEMA flood insurance.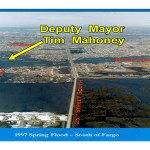 Wouldn't it be nice to have Dayton ask where all the displaced water goes? Or perhaps Gov. Dayton is wise enough to know that Minnesota has been relinquishing land to Fargo development – inch by inch for decades.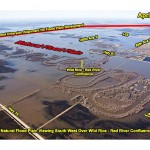 The location of the F-M Diversion dam and levee determines how much of the natural flood plain is "protected" for development. The farther south the dam and levee are located, the larger the portion of Cass County that is protected for subsidized development. It's the area where the water naturally collects as it's been doing since our river system was formed by Mother Nature.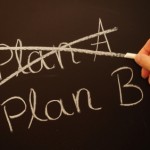 We are certain that the FM diversion is not the next step in providing Basin wide protection, no matter what the politicians say.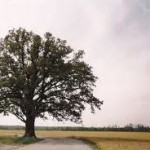 Grand Forks Herald reporter, Chuck Haga explores negative impacts caused by Fargo's bad policy of "flood thy neighbor." 112th Congress may have to weigh the economic and social impacts caused by Fargo's intrusion into the natural floodplain in violation of Executive Order 11988. "Fargo feels they're in control and they can do as they please," Fargo should use the floodplain just to the city's south for water storage at times of flooding, "instead of draining it to build houses." "If we're going to take their water, we need to have some say. As it is, Richland County is to be a holding pond for Fargo, and we don't think that's fair."