Archive for September 2012
You are browsing the archives of 2012 September.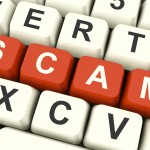 Richland and Wilkin Joint Powers Authority say NO to Fargo's economic "dead zone" in what was, prior to this project, a vibrant, rural economic growth area.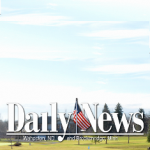 Commissioner Vanyo, chairman of the FM Diversion Authority, is driving hard to eliminate 25 percent of the Kindred School's tax base – permanently.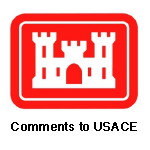 It appears that the current plan would have the metro area solve their problems at the expense of their neighbors both up stream and downstream. Why implement a plan that only causes more problems in other areas?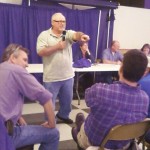 Hey, Hey Ho! The Dam Has Got To Go! $500 dollars…going once…going twice…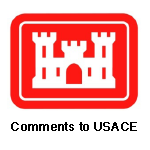 The cost of a Diversion Channel is appalling compared to what it would cost to create eco friendlier alternative measures.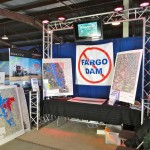 Pat Otto, Karen Grimm, Gene Grimm, Joel Noreen, Sid Berg, Allen Swenson, John Carlson and Marcus Larson volunteered to represent MNDak Upstream Coalition and the Richland Wilkin JPA during Big Iron September 11th thru 13th. The booth offered straight forward information, insights and impacts of the Fargo Moorhead Dam and FM Diversion. A real "eye […]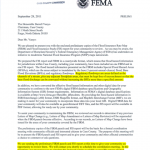 Darell Vanyo's actions and decisions as Cass County commissioner and Diversion Authority chairperson define that he is inept as an elected official and wields his authority recklessly placing regional populations at risk.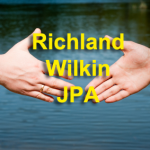 So why does Fargo insist on a Dam and 54,000 acre reservoir? Fargo leaders want flood protection that will promote Fargo's future growth at the expense of their neighbors.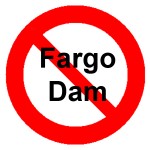 I have a "Stop the Fargo Dam" sticker on the back of my car. The other night I was loading my vehicle, when a couple of 30-somethings walked by discussing my sticker. The first commented he hadn't heard of a Fargo dam. The second said there really wasn't a dam, it was just confusion over the diversion project.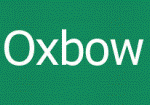 The Oxbow City Council reaffirms its strong opposition to the dam and water storage reservoir and expresses its strong support for the objectives and purposes of the Richland/Wilkin Joint Powers Authority ("JPA"), and pledges its pro-active participation and financial commitment to the JPA.