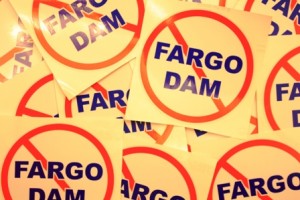 FREE
NO Fargo Dam
Sticker!
Something special for Halloween!
Send a message to Fargo, Cass County, the Diversion Authority and Corps of Engineers to get rid of the dam(s), stop the destruction of upstream communities, impacts on Kindred and Richland-Colfax school districts and farming operations for Fargo's unnecessary future development of the last natural flood plain adjacent to the metro area.
Two EASY Ways to get your very own NO Fargo Dam sticker and start showing your support.
A) Sign up for Email Alerts on FMDam.org (right hand column)
B) Send Fargo Dam a message on Facebook with your mailing address and the name
   of the friend your referring to Like and Follow Fargo Dam on Facebook.
This offer ends 11:59:59 PM
October 31st, 2012
Views: 53