Archive for USACE
You are browsing the archives of USACE.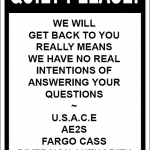 We received an email on June 25 saying they had not forgotten us – they would get back to us on our questions. We have yet to hear a word. We have met many residents who were given the same promise of "We will get back to you." None of us have heard a word.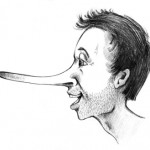 Is it time to start recalling every city, county, state and congressional official that claimed 2009 was only a 50 year flood event? Is it time to start recalling every city, county, state and congressional official that endorses augmented studies that are solely designed to support Fargo's future development?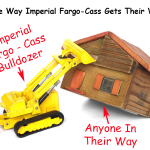 Think of the political side. If upstream residents voice concerns to the North Dakota Legislature, they'll bulldoze 'em with their representatives. They'll even get the governor to sit alongside in the cab. No need to bulldoze the local (Fargo) newspaper, they're supplying diesel for the engine.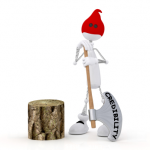 In yet another attempt to do Fargo Dam and FM Diversion damage control, Fargo sacrifices another pawn upon the blade of credibility.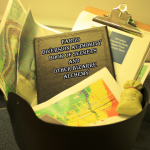 Fargo Diversion folks used creative accounting to justify their project to Congress. They couldn't get a good enough benefit/cost ratio to have any hope of getting funded, so, they cooked the books.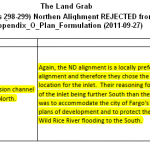 It would be a novel idea for the Forum to refocus its efforts and use its public venue to ensure that those sacrificing their homes, lifestyles and some cases lively-hoods are justly compensated without all the bias, rhetoric and prejudice that comes with the Fargo Diversion Authority party-liner agenda.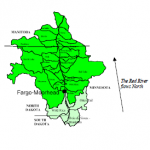 Just like the previous efforts, this study has been done with tax dollars and has fallen to the divisive politics of special interests. Perhaps the answer they got was not the answer the Diversion Authority wanted?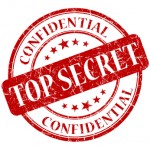 Fargo Diversion Authority delays releases of half million dollar taxpayer funded Red River Basin Commission Long Term Flood Solution study that damages U.S. Army Corps of Engineer project claims.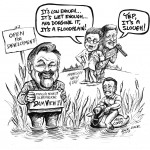 Fargo's media criticizes Moorhead for being trashy and backward and described as "more than sad." Suggesting that Moorhead has only themselves to blame for their lagging development, they are castigated for failing to take advantage of their natural advantages and lectured on what they should or should not be doing.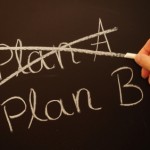 We are certain that the FM diversion is not the next step in providing Basin wide protection, no matter what the politicians say.