Archive for USACE
You are browsing the archives of USACE.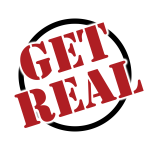 Oddly, citing – "as designed by the U.S. Army Corps of Engineers" is reminiscent to those – "as seen on T.V." infomercials, wherein a misleading problem can be fixed with the latest and greatest huckster science – with the whole intent of getting into your wallet.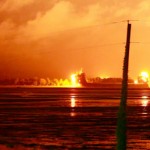 The damage caused by the intentional flooding cost ten times more than the New Orleans power brokers estimated, and a large percentage of the flooded rural residents received nothing for the damage they suffered.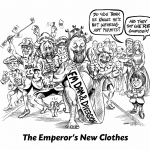 Don't be misled, the law is clear. Minnesota has the final word on whether the Red River gets a dam. The Army Corps is essentially just Fargo's paid contractor for this project, in no way exempt from the requirements of Minnesota law.

The current project is bleeding money at a staggering pace. As for costing $53 million more? Absolute nonsense!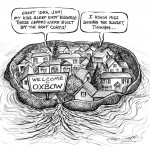 Jim, try and be a little less fast and loose with the facts. While there are undoubtedly residents of Oxbow that view the ring-dike as a short-term solution to a long term problem, the issues of living behind a ring-dike create new problems and costs that never previously existed.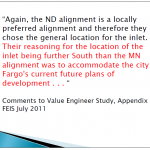 From a political standpoint, Fargo's attempt to move impacts onto property owners outside city limits and away from voting constituency while simultaneously preventing impacted stakeholders from having a non-conflict of interest vote at the table – underscores the greed and corrupt nature of the proposed project at hand.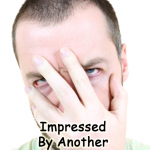 I wonder if Fargo taxpayers would have voted differently if they knew tens of millions of their sales tax dollars was going for an unnecessary ring dike and to subsidize a private country club instead of funding their own much needed internal flood protection?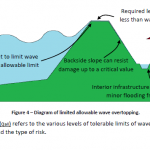 Residents of the communities of Bakke, Hickson and Oxbow, North Dakota could face several weeks of adverse conditions surrounded by a man-made lake which could exceed 50 square miles in size.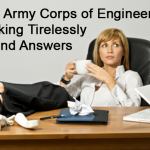 The rules of the meeting were plainly spelled out. We were not to debate the diversion, just seek out information. The request by the DA to meet with them implies a knowledge of impacts that need to be addressed. Possible impacts for this home and other properties in the area outside of the staging/storage area (the Red Box) are acknowledged, but no compensation is provided.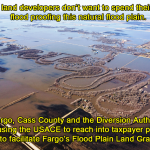 Is the USACE an Accomplice in Fargo ND Land Grab? There are approximately 20,000 acres of land within Tiers 1 and 2 of Fargo's development plan. Of this land, approximately 14,000 acres is within the present 100-year floodplain. Against FEMA warnings of flood plain encroachment, Fargo and Cass County ND continue their land grab in violation of ND Law and Executive Order 11988.