Archive for U.S. Army Corps of Engineers
You are browsing the archives of U.S. Army Corps of Engineers.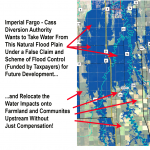 It's unfair and unethical to force family farmers, homeowners and communities to pursue their own costly legal recourse to Fargo's development project. But then again, maybe we're expecting too much of our neighbors and elected leaders.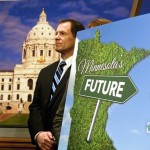 The lowest existing ground level in the new portion of Oxbow, ND requires a 22.5 foot high levee because it is 10 feet lower than the lowest residential property along Schnell drive in Oxbow, ND. However, the FEMA regulatory flood plain indicates the lowest existing properties along Schnell drive are only 10.8 inches below the FEMA regulatory 100 year flood plain.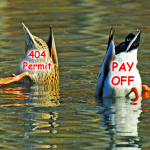 Bruce Spiller: "…correct, when we were in final phase with the Corps we tried to get this moved now uhh, now that we have authorization to try to get mitigation because we are going to have extra wetlands on the whole project, um, and tried to get it to separate it and they basically came back with we wouldn't get a permit if we didn't go to this."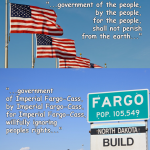 Fargo and Cass county are almost to the point of being the antonym to the very principles that most Americans hold near and dear.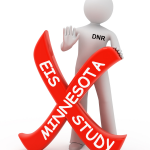 This is a new tactic and was prompted perhaps by Fargo's tardy realization that the project will not survive Minnesota's permitting process. The State of Minnesota now needs to defend its laws and its citizens from Fargo's development plan. If you are a Minnesota resident it is very important that you immediately contact your representatives and let them know your feelings and the importance of this matter.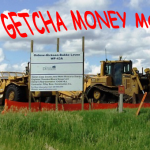 Like calling the hogs to the trough…, the Fargo Forum heralds commencement of the $70+ million OHB project, including a brand new swimming pool, clubhouse, Robert Trent Jones designer course holes and relocation of nearly half the city of Oxbow…, BEFORE completing internal flood protection to safeguard Fargo taxpayers.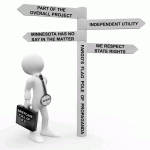 Fargo Flop Flops on their OHB ring dike position. Fargo Diversion Authority leaders willing to say anything, do anything, impose anything to get their way.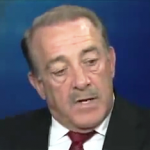 Farming is arguably a business, just like any other. The unique facet of farming is that it contributes "lifeblood" to the economic landscape of the Red River Valley, North Dakota and national economy – providing thousands of jobs and billions in gross annual revenues, as opposed to a golf course that cannot even fill its private membership roster.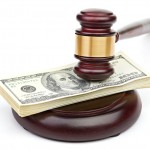 At no time, has the Diversion Authority been willing to discuss with either group, alternatives that would achieve flood control for Fargo and reduce impacts for those upstream. Whether directed by the Army Corps, or by their own attorneys, their practice of stonewalling those who are being hurt is at best unproductive, and at worst, unethical.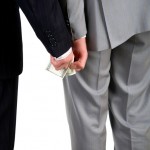 Fargo Diversion Authority leaders claim opposition to their wealth transfer scheme is being orchestrated by a couple of counties that are "insignificantly inconvenienced". The Diversion Authority's attacks on the JPA and upstream residents are a sideshow. The JPA is defending the rights of its constituents, and is a model for what government should do.