Archive for November 2013
You are browsing the archives of 2013 November.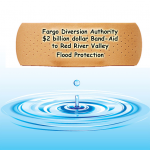 No more "FARGO "FIRST": Pembina County commissioner Andy Adamson, Jr. accurately sizes up Cass County commissioner Darrell Vanyo and cites "A flood control project of this size should be expanded to provide protection to the entire Red River Valley".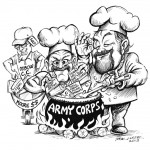 The U.S. Army Corps ran the numbers, and it didn't work. Historic river levels didn't justify the cost of a diversion. Flood control for Fargo is relatively inexpensive compared to the massive cost to convert floodplain for future development. The goal of their stew is to predict as much damage as possible to the city of Fargo in the case of a 100-year flood.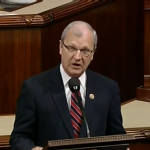 Rep. Kevin Cramer, speaking on a local radio station, recently observed that "winning doesn't mean someone has to lose." Can Fargo have permanent flood protection without so many others being forced to lose – without Moorhead, West Fargo, Richland and Wilkin County, Hickson, Bakke, Comstock and Wolverton having to lose? Washington, DC bound politician often make the fatal mistake that Fargo officials will is the will of the people, when in reality a growing number of Fargo residents do not support the current form of the Fargo Dam and FM Diversion project.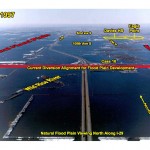 Nothing comes close to the ignorance of group-think and naivety of the Pro-Fargo kool-aid drinkers.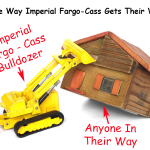 Think of the political side. If upstream residents voice concerns to the North Dakota Legislature, they'll bulldoze 'em with their representatives. They'll even get the governor to sit alongside in the cab. No need to bulldoze the local (Fargo) newspaper, they're supplying diesel for the engine.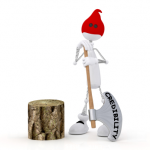 In yet another attempt to do Fargo Dam and FM Diversion damage control, Fargo sacrifices another pawn upon the blade of credibility.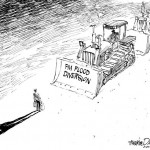 U.S. Army Corps' documents state, and Fargo leaders admit, this plan is about growth and was designed to remove the FEMA flood plain controls from 70-square miles of flood-prone land and provide protection to the city of Fargo.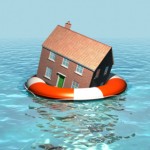 The solution is to reduce the risk for all, not just for the FM metro region. The current crop of leaders have not the foresight to choose this long-term solution.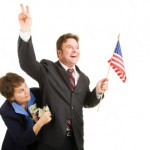 Who can stand up to the Fargo Diversion Authority and tell them NO! Moorhead has protection and did so for a billion and a half less.